3D Technology - CS 8100 3D
Convenient for all
Whether you are the user or the patient, the CS 8100 3D makes image acquisition quick and simple.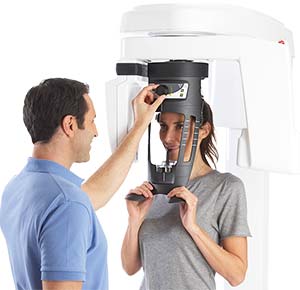 Intuitive interface and letter landmarks on the bite block simplify the examination process
Open, face-to-face design puts patients at ease and promotes comfort
Fast scanning times (7 seconds minimum) prevent movement and reduce retakes
Accessible to patients of all sizes and individuals in wheelchairs Ultra-compact unit easily fits in tight spaces
Multi-functional System
From traditional panoramic exams to endodontics, implant planning and oral surgery applications, the CS 8100 3D is capable of far more than the average 3D unit.
Optional cephalometric configuration available
 Award-winning 2D technology delivers superb panoramic images in seconds
Accurate 3D representations ensure optimal diagnostic results
CAD/CAM abilities empower you to perform more procedures in your office
Precision from All Angles
The CS 8100 3D is designed for accuracy, with a high-frequency X-ray generator, 4T CMOS sensor and vibration-free motion system working together to ensure smooth image capture.
Resolution up to 75 µm is ideal for endodontic indications
3D images offer more accurate views of dental anatomies
View areas of interest from every angle with one-to-one accuracy
Safer Examinations
Combining CBCT technology with a selectable field of view and low dose imaging, the CS 8100 3D is designed to limit radiation dose and ensure safer exams.
Low-dose mode delivers high-quality 3D images at the same or lower dose as a standard panoramic exam
Flexible fields of view confine radiation to the area of interest
Control settings such as size, resolution and dose for each exam