Laser Periodontics
Dr. Shah Now Offers Minimally Invasive Laser Gum Surgery in Flanders, NJ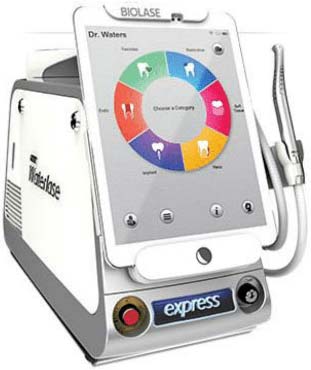 Summary: Dr. Shah is pleased to be a periodontist in Flanders, NJ who now offers highly effective BIOLASE WaterLase™ technology in her office. This laser gum surgery system is revolutionizing the way certain dental procedures are performed, including treatments for periodontal disease and tooth decay.
Patients who are interested in having their gum disease and other dental ailments treated with laser gum surgery can now receive BIOLASE WaterLase™ treatments from Dr. Shah. Dr. Shah is qualified to utilize the minimally invasive BIOLASE WaterLase™ system to treat many dental conditions without causing excessive pain to the patient or injecting them with large amounts of anesthetic.
Dr. Shah now offers BIOLASE WaterLase™ treatments to patients who would like to receive laser gum surgery as an alternative to more traditional oral surgery methods. Those who are looking for a periodontist in Flanders, NJ who knows how to minimize patient discomfort without relying on the administration of anesthetic are invited to schedule a consultation and find out more about this unique laser-based treatment system. The distinctive technology behind the BIOLASE WaterLase™ system makes it possible to cut through soft gum tissue or even hard bone tissue with minimal vibration or pressure.

Dr. Shah is often able to utilize the BIOLASE WaterLase™ system while administering less anesthetic, due to the uniquely gentle way in which the laser operates. In some cases, patients do not need to receive any anesthetic at all and are quite comfortable to go through entire dental procedures when the BIOLASE WaterLase™ machine is utilized. Those who suffer from anxiety due to past dental experiences or fear of needles are more likely to feel calm and relaxed when receiving treatment with the gentle WaterLase™ system. Laser-based dental care has also been shown to cause less swelling and bleeding at the treatment site. Patients have been shown to recover more quickly when laser treatments are utilized instead of traditional dental treatment methods.
Visit Our Media Center
Those who are interested in making an appointment with a periodontist in Flanders, NJ who utilizes laser gum surgery methods to treat various oral problems are invited to schedule an appointment with Dr. Shah's office at their convenience.
WaterLase Dentistry
WaterLase dentistry is one of the most advanced dental treatments today. WaterLase uses a patented technology that combines focused light energy with a stream of water for a highly precise, exceptionally gentle dental experience. WaterLase allows Dr. Shah to perform a wide range of procedures with benefits including:
Faster healing time and less trauma to teeth and gums.
Less anesthetic for most procedures.
Treating dental needs in more than one part of the mouth in one visit.
Making dental care a more relaxing experience for you.
The Benefits of WaterLase Dentistry
MORE COMFORTABLE
WaterLase dentistry uses laser energy and a gentle spray of water to perform a wide range of dental procedures without the heat, vibration and pressure associated with the dental drill. With many procedures, it's possible to use less anesthetic, or no anesthetic at all.
MORE CONVENIENT
Dr. Shah can often get you in and out of the dentist chair faster, since it's less likely that you'll need an injection. It's nice to avoid that shot, isn't it?
What Can WaterLase Dentistry Do?
We may use WaterLase dentistry laser to treat your gums or other soft tissue in your mouth to:
IMPROVE YOUR SMILE
We may suggest contouring or shaping your gums using WaterLase dentistry to improve the appearance of your smile – safely removing excess gum tissue that may give you a "gummy" smile, or make your front teeth appear irregular in size or shape.
REMOVE ORAL GROWTHS
Quickly and safely remove growths or excess tissue in your mouth including gum tissue over an unerupted tooth, small "tags" called papilla, and growths called fibromas.
FIX A "TONGUE TIE" OR PREVENT GUM RECESSION by Treating a Large Frenum
Connections that restrict the movement of your tongue or cause your gums to recede can be "released" with less post-operative pain.
TREAT PERIODONTAL DISEASE
We recommend using WaterLase dentistry to remove debris and bacteria between your teeth and gums that can cause bleeding gums, gum recession and even loss of teeth. For moderate to severe gum disease, ask your doctor about REPAIR minimally invasive periodontal treatment.
Contact us today to find out if WaterLase Dentistry is right for you.